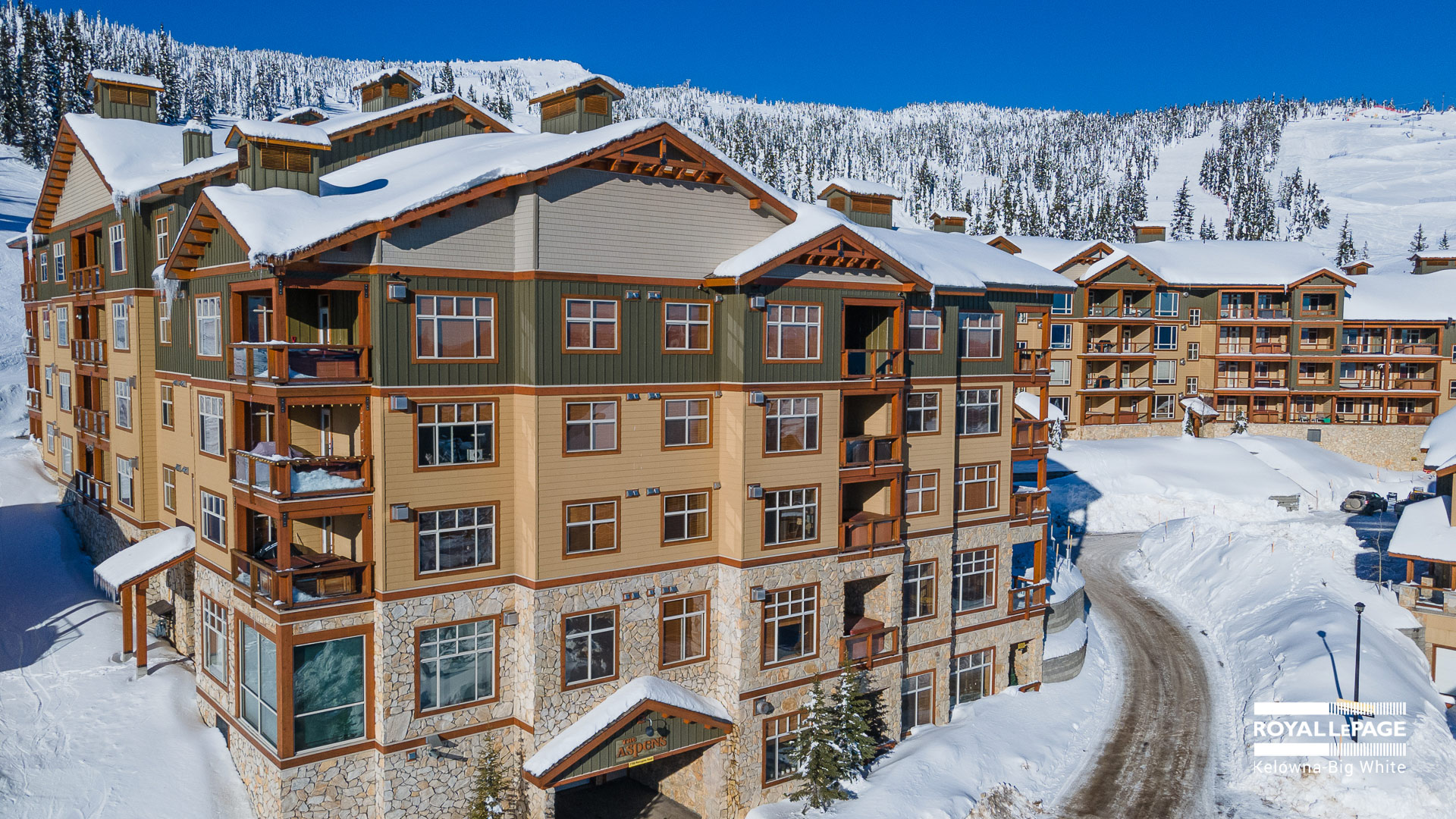 The Aspens at Big White
Life is great at the top! When you own real estate in the Aspens at Big White you'll experience just how great life can be. The Aspens is a 49 unit, concrete building that offers 1-5 bedroom condo and townhome units for sale in two buildings. Constructed in 2007, the Aspens is located at the top of the Big White Village and boasts high-end finishing in every unit.  Custom metalwork, large gas fireplaces, and heated slate floors are all welcoming details after a long day on the slopes.
Ski-in/ski-out access is the main reason owners flock to this luxury property at Big White. The Aspens building is located directly on the Sun Run where you'll enjoy instant access to both day and night skiing! Since you'll have your own private ski locker on-site, you won't have to worry about hauling your gear back and forth either. Most of the units offered for sale in The Aspens at Big White also offer private hot tubs, making apres-ski even better.
The Aspens is unique in that it offers both condos and townhomes for sale. Condos feature anywhere from 1 -3 bedrooms, with many units offering dens for extra space. This is great news for those who want to WFH (work from home) during the season! Townhomes are much larger and offer the convenience of private single garage parking. Some townhomes are as large as any suburban home nearing 3000 sq ft. If you're fortunate enough to pick up a townhome for sale in the Aspens at Big White, then you can be guaranteed that you'll have frequent guests looking to stay for a weekend in one of your 3-5 bedrooms.
The Aspens also has a shared games room on site. Residents can unwind playing a number of familiar games, watch the game on TV or curl up and read a book. Residents also have access to secure, heated underground parking for condo owners, while townhomes enjoy private garage parking. Four elevators ensure that you aren't late to the lifts during peak ski time. Perhaps one of the biggest draws to units in the Aspens is the view of Big White. From some units, you'll see the village of Big White sprawled below, against a stunning backdrop of the Monashee mountains. Get up early, make a coffee and watch that sunrise over champagne powder from your luxury unit! What are you waiting for? Get in touch to learn more about homes for sale in the Aspens at Big White.
The Aspens is ski-in/ski-out at its best! Wake up to cozy fireplaces and stunning views of the Monashees as your backdrop!
Our knowledge of real estate at Big White is unparalleled! Whether you're selling or buying; you'll have the energy and experience of 2 full-time REALTORS®  working with you on your schedule!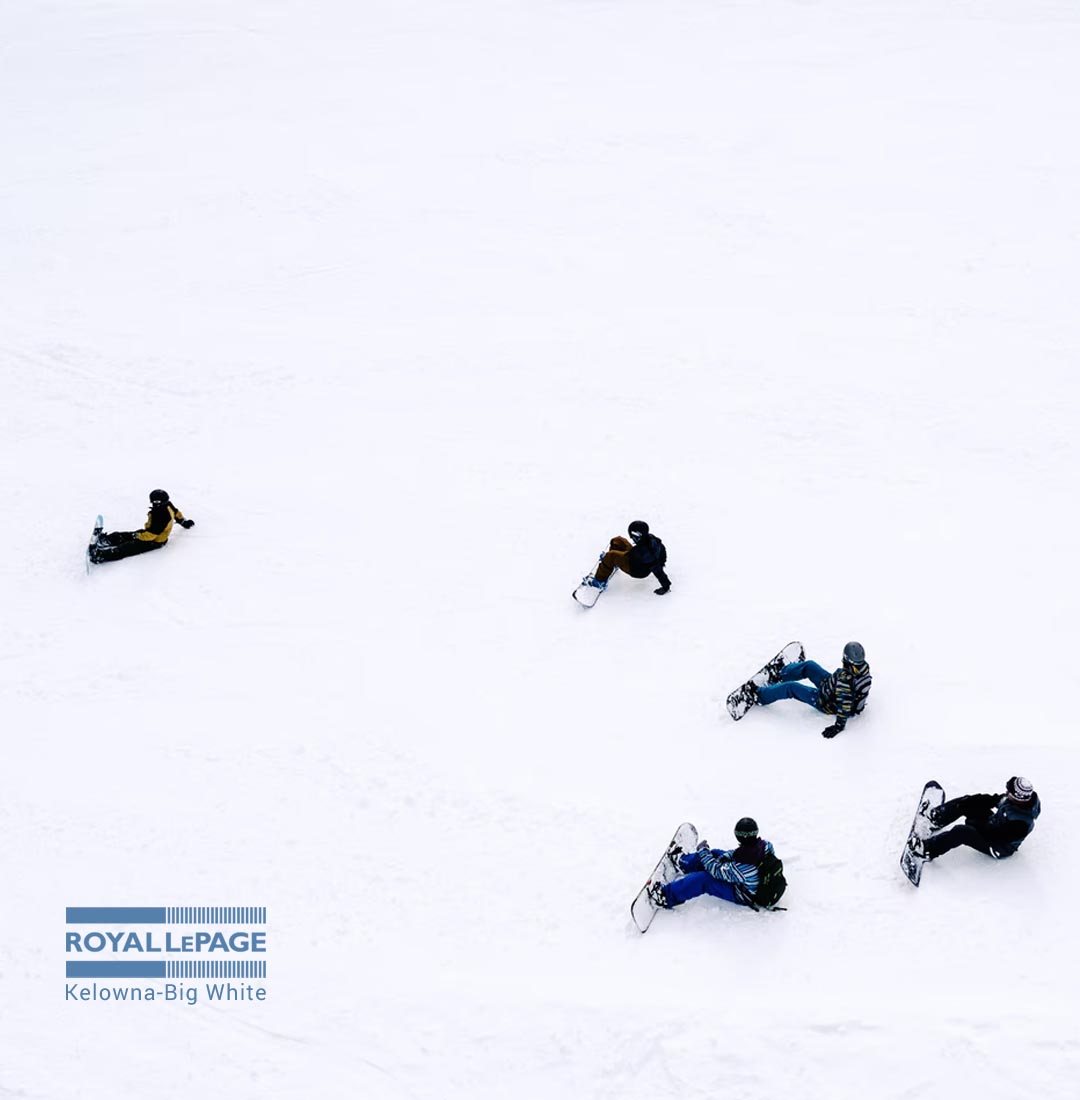 Get a quick estimate on my unit in the Aspens
What is your unit worth in the Aspens?
Fill out the quick contact form below for a quick estimate to be emailed to you regarding your unit.
Selling
Selling your Aspens Unit?
If you are looking to get the most comprehensive evaluation of your unit in the Aspens, please reach out to us via the contact button below.
I want to purchase in the Aspens
Find out if there are any units available for sale in the Aspens.
We will help you to purchase in the Aspens, even if there are no units for sale on the public market. Please contact us to learn more.
The Aspens Big White
Contact us to buy or sell in the Aspens at Big White
The Aspens Address: 7700 Porcupine Road, Big White, BC
Andrew Braff
Phone: 250-469-4754
Email: andrewbraff@yahoo.com 
We want your vacation property!
If you are thinking of listing your Big White property for sale get in touch with us now! We have a growing list of QUALIFIED BUYERS who are searching right now for vacation homes at Big White! There's never been a better time to sell!